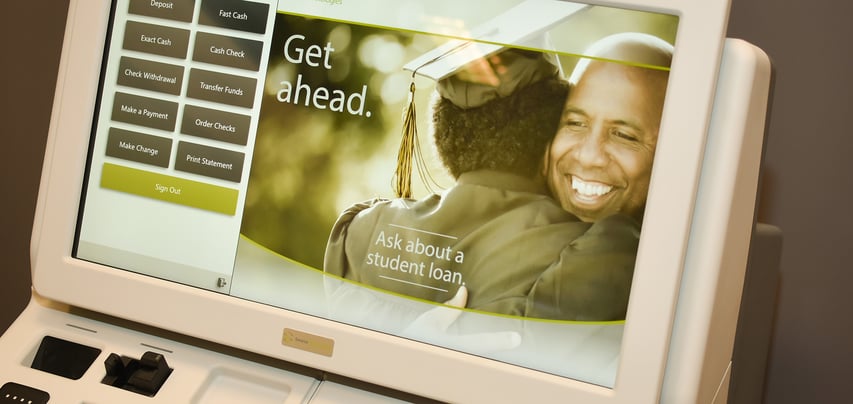 The use of self-service kiosks is on the rise, and in the banking industry, their integration into the daily operations has aided banks and credit unions to adjust to the rapidly changing times. Today's consumer is smart, tech savvy, and looking for multiple interaction channels to meet their high expectations. Financial institutions must broaden their technology suite to provide a modern customer experience. Failure to do so, will force clients to migrate to other institutions or Fintechs that offers a more modern, streamlined customer experience. Implementing in-branch, self-service kiosks can improve the customer's experience while driving internal efficiencies and allowing universal bankers to focus on higher value and revenue generating transactions. So, what exactly is self-service banking kiosk and how does it differ from the traditional ATM?
What is a Self-Service Banking Kiosk?
A self-service banking kiosk or Personal Teller Machine (PTM), allows financial institution clients to perform typical in-branch transactions from a core integrated device without having to wait for a traditional teller. Like we have seen within the travel, retail, and groceries industries, banks and credit unions are adopting self-service kiosks to improve internal efficiencies, reduce overall expenses, and deliver customers and members the modern retail experience they have come to expect. Additionally, the PTM allows tellers to transition to universal banker roles where they can focus on more complex customer transactions and revenue generating interactions. Unlike the traditional ATM, self-services banking kiosks integrate directly to the institution's core system. This independence from the ATM rails allows consumers to enjoy a richer, more value added transaction set.
4 Things to Consider When Selecting a Personal Teller Machine
1. Your institution's self-services vision and goals
Institutions and businesses that begin the selection process with their vision and goals in mind, are best positioned to develop a successful self-service strategy. From Nutmeg State FCU's DMV express location to C-Spire's retail bill payment stations, each have had success by selecting the right hardware and software to bring their vision to life. Source Technologies' configurable and flexible kiosk hardware, coupled with our CoreConnect Foundation development platform, allows our clients to select the best endorsed software provider to build the modern client experience the market demands and to exceed their self-service goals.
2. Your software options
Typically, in the self-service banking kiosk market, hardware and software are tied together by the vendor. A key differentiator of Source Technologies in the marketplace is our "software agnostic" philosophy. Through CoreConnect Foundation, our software development platform, financial institutions have the flexibility to select from one of our industry leading software providers or develop their own client facing experience. This approach ensures that your self-service strategy accomplishes your goals, meets your clients' expectations and can adapt to the changing market needs. One of the main concerns for banks when switching over to a newer technology system is security. Providing extensive security measures is crucial for the wellbeing of both the bank branches and its customers.
3. Your hardware configurations
Out of the box hardware can lead to reduced functionality, poor client adoption, and failure to meet program expectations. Source Technologies' manufacturing process affords clients the abilities to create a custom kiosk configuration to facilitate your specific transaction set and use cases. As you evaluate your hardware options, be certain your provider can support custom configurations and peripheral devices to drive a successful deployment.
4. Benefits for your clients, employees, and the overall institution
The merger of individually configured hardware and best in class software to deliver an institution's self-service banking vision should lead to reduced operational cost, enhanced internal efficiencies, improved employee morale, and higher client satisfaction. As you evaluate your in-branch kiosk needs, be certain the company you select can help define your overall objectives, configure hardware and select software to exceed your program goals, and meet the fiduciary responsibilities you have to your ownership.
The Self-Service Kiosk and Your Branch Network
To get a better feel for how Source Technologies can impact your institution and your clients with an in-branch self-service kiosk, connect with our team of kiosk specialists.