While starter checks allow new account owners to still make payments, many businesses may be wary of accepting them due to their lack of personalization. On-demand check printing solutions can offer a faster and more personalized option to standard starter checks. In this blog, we will be discussing the differences between starter checks vs. custom checks and how an on-demand printing solution can increase revenue in your bank branch.
What is a starter check?
According to a study by Gallup, 78% of new bank accounts are still opened in a branch. When customers open a new bank or checking account, they are given a pack of pre-printed temporary checks known as starter checks to use while their personalized checks are ordered and shipped. Personalized checks can often take weeks to print and ship, therefore the bank provides customers with a printed equivalent as a substitute during this time.
What do starter checks look like?
Starter checks look similar to regular checks and still contain the bank routing information needed to process the check, but they do not include personal information, like the customer's name or address. They also have a very low check number printed in the upper right-hand corner, indicating a new account. In some cases, the starter check may have no pre-printed check numbers. The image below highlights the differences between a general starter check vs. a custom starter check.
Can starter checks be used to pay bills?
Starter checks can be used to pay bills, including monthly utilities. However, having no personal information on the check coupled with a low check number creates security concerns for banking institutions. This may cause delays in check processing as the bank works to validate the additional information given.
To use the starter checks, the customer must hand-write the missing personal information on the check, which may result in the check being rejected or the vendor taking extra precautions in verifying the check before processing. Additionally, some companies may be concerned that the check will bounce since the low check number indicates it is from a new account and the initial deposit may still be pending. These are legitimate concerns for businesses, and would clearly cause frustration and potential embarrassment for the customer.
To prevent the customer headaches associated with generalized pre-printed starter checks, financial institutions can utilize an on-demand check printing system in-house to offer customized starter checks for a fee. By charging a fee for this service, financial institutions can experience an increase in revenue, as many customers will opt for personalization of their starter checks.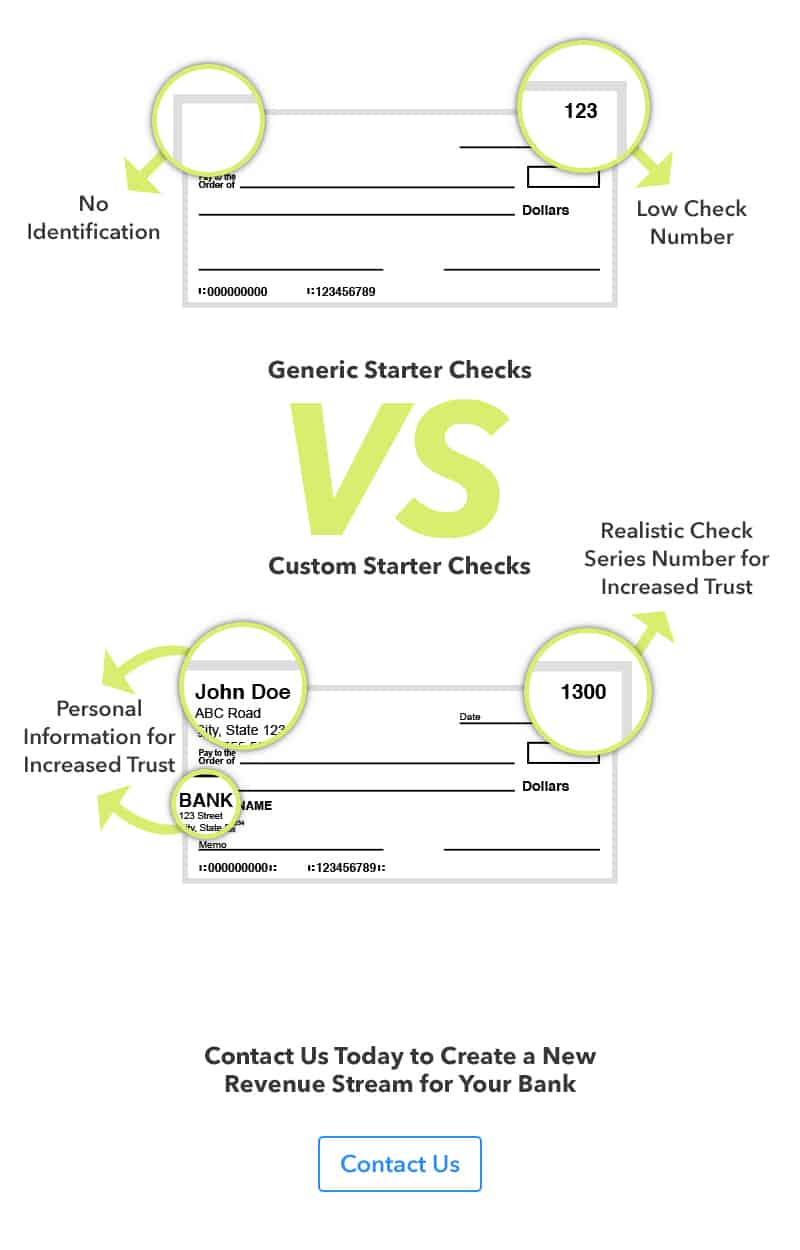 Custom starter checks can increase incremental bank fee revenue and create a better customer experience.
An in-house check printing solution allows banks to print starter checks that include personal information, including customer name, account number, address, and phone number. Printing personalized starter checks at the bank branch for new customers has many advantages for banks, including generating a new revenue stream.
Financial institutions that print their new account kits and starter checks on site:
Earn incremental fee revenue.

Reduce the risk of check fraud by eliminating pre-printed starter checks.

Prevent the embarrassment of customer check rejection by including identification information.

Provide a better customer experience by eliminating the wait time for personalized checks and providing the option for customization.
Source Technologies' On-Demand Check Printing Software
Source Technologies' check printing software allows you to simplify user experience within your branch and relieve headaches caused by the lack of information on basic starter checks. On-demand printing allows you to customize starter checks to include personalization features such as name and address, as well as adding a more realistic check number. Offering customized starter checks to new account holders will help to reduce fraud and provide your customers with an extra level of confidence in your institution; knowing their starter checks won't be delayed or rejected. Our on-demand printing software is capable of assisting you with starter check personalization, counter checks, and certified official checks.
On-demand check printing offers your branch a variety of benefits. You're able to increase revenue by offering this service as a premium to bank customers. While starter checks and counter checks can be produced faster and will appear more credible thanks to personalization features. Learn more about Source Technologies' check printing software and check printers to boost revenue and provide your customers a better experience.
This article was originally published on July 19, 2017, and was updated on November 2, 2021, for context and clarity.