The check is the longest-standing form of payment in modern times. Despite the rise of more efficient technologies like Automated Clearing House (ACH) and mobile payments, 91% of small and medium businesses use checks for business to business payments over digital methods and 15% percent of Americans still use personal checks regularly. More, the rate of decline in checks has recently flattened, even seeing a modest uptick in 2017. Despite many things working against it, the check remains a preferable payment method for many, as evidenced by 17.3 billion items exchanged in 2018.
What Is MICR?
Magnetic Ink Character Recognition code, known in short as MICR, is a character recognition technology used mainly by the banking industry to streamline the Federal Reserve Banking System's (FED) processing and clearance of checks and other negotiable documents.
From issue to printing to clearing of a check through the FED, the MICR code printed on the bottom of the check is central to the process. Every check contains the financial institution's routing and transit numbers (identification code), the account number, and the check number. These elements are printed with a MICR font, and with MICR toner on a laser printer that has been modified to print quality checks, securely.
MICR Check Printers
The quality of MICR check printing and the position of all printed information on the check is critical. Secure MICR check printers contain components such as a large transfer roller to help position all information exactly right. The MICR template below shows the exact placement of static and variable data for the check and can be placed over a check to ensure the information lines up correctly.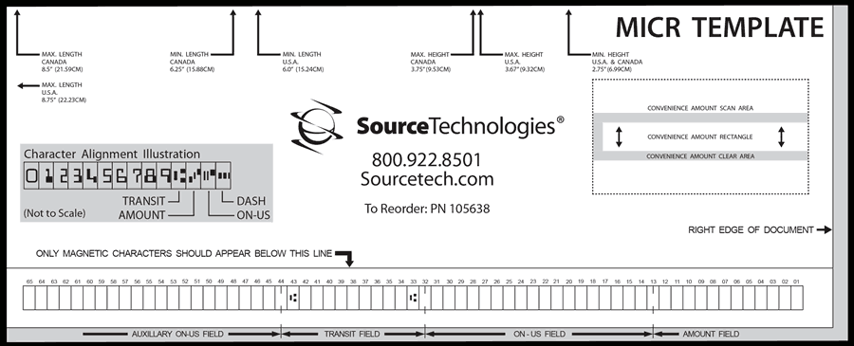 Ideally, laser printers that pass the standards for secure MICR check printing contain comprehensive levels of security and quality of the printed check made accessible through a Downloadable Emulation Card (DLE) installed in the printer.
The DLE stores a bevy of features specific to MICR printing, like the MICR font and micro font, and interacts with the printer itself to change some of the characteristics of standard laser printers – turning off the auto reprint feature, for example.
Additional Elements of Secure Check Printing Solutions
SOFTWARE
Check printing software provides a secure system to automate the enterprise check disbursement process. Check printing software is typically integrated with secure printers, enabling remote locations to request and print MICR laser checks locally while maintaining centralized approval, audit, and control of the whole process.
MICR TONER
The magnetic strength of the MICR toner used is also of great importance. If the signal strength, adhesion, durability, and yield of the MICR toner cartridge do not meet the strict standards set by the Accredited Standards Committee on Financial Services, the check will likely be rejected and result in unnecessary bank fees.
Since a check is a secure document, the right controls must be in place from data file transfer all the way to printer output. A truly secure MICR check printing solution ensures that data is encrypted all the way to the printer, where it is decrypted and then printed onto the blank check stock. Distinct security features must be present to ensure the printer has the correct toner, is only accessible by approved personnel, cannot print duplicate copies of the same check, and carries an audit trail for reporting.
BLANK CHECK STOCK
Many things in life begin with a 'clean sheet of paper' and the check is no exception! Using blank check stock in the check printing process delivers a benefits trifecta:
Compared to pre-printed check stock, using blank stock is considerably less costly (about $.80 cents less per check)
There is heightened security with blank check stock by eliminating theft of negotiable documents
Productivity gains throughout the check issue, printing, and audit process are significant when using blank check stock over pre-printed stock
MICR Resources
You trust technology to help you run your business every day. Your check printing solution needs to be fail-proof. Source Technologies provides the most comprehensive secure print technology delivered in a broad family of printers and accessories, plus custom-engineered consumables for specialized applications.
More information on MICR can be found:
American Bankers Association: www.aba.com, conferences, banking industry issues
Bank Administrative Institute: www.bai.org, conferences, publications
American National Standards Institute: www.ansi.org
X9: www.x9.org, accredited by the American National Standards Institute (ANSI), X9 develops and publishes voluntary, consensus technical standards for the financial services industry
NSSN: A National Resource for Global Standards, recent ANSI documents can be purchased from the NSSN web site
Is MICR Printing Solutions Right for You?
If you want to print secure checks efficiently, MICR printing solutions is a great option for your business. MICR offers greater security compared to OCR technology and it reduces the chance of error because there is no manual inputs. Are you ready to take the next step and find out more? Contact us to see how Source Technologies can transform the way you do business.
Editor's Note: This article was originally published on November 16, 2017, and it has been updated on April 20, 2020.