Not All Check Printers Offer the Same Benefits
Laser check printers are used in many brank branches today for check printing. However, there are several factors these printers do not offer when compared to secure MICR printers.
Security at the Check Printer Level
Laser check printers provide no security, while secure check printers with guaranteed MICR toner truly minimize chances for check fraud at the printer level.
Exposed Check Fraud Risks without MICR Security
Numerous security measures are put into place when secure MICR printers are used instead of laser check printers. Pre-printed checks invite several opportunities for fraud, while secure MICR solutions that provide on-demand check printing safeguard banks, credit unions and other financial institutions from dangerous (and costly) scenarios such as:
Check Stock Pilfering

This is when pre-printed checks are stolen. MICR printers eliminate the need for pre-printed checks, the storage they require and the potential expenses in the event of theft.

Check Alteration

Non-secure laser check printers don't always utilize secure MICR toner or built-in features that reveal alteration attempts to the naked eye

Check Duplication

While MICR check printers offer a Copy Set to One setting that eliminates the ability to print more than 1 copy of a check, laser check printers without this hardware feature leave the risk open for check fraud.

Counterfeit Checks

Without high-quality print security features like the secure numeric font that delivers embedded micro text and numbers into every check, pre-printed checks produced with laser printers do not protect financial institutions from check counterfeiting attempts.

General Ledger Mismatching

Without an automated solution, manual issuance and reconciliation often lead to errors, and internal fraud perpetrators could mis-appropriate funds by changing G/L account entries

Piggybacking

Piggybacking refers to checks that overlap each other during the check scanning process, which results in having two checks on the same image.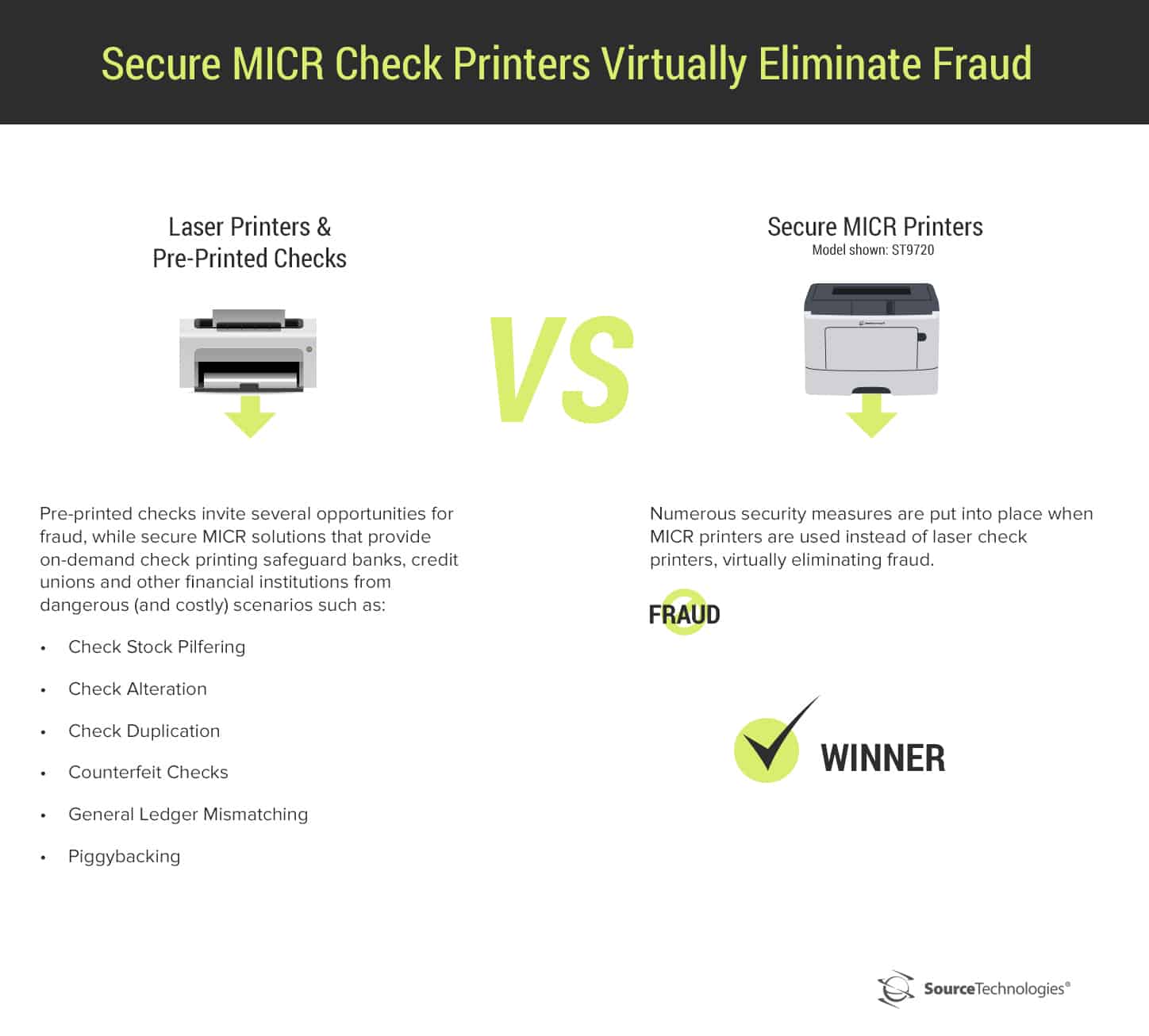 For more information on the added values a secure MICR check printer solution can offer your industry, contact us today.